Garbarrassing People
Welcome to the people section of our website. This is where we rip on people (usually famous) for making piss-poor garbarrassing decisions during their lifetimes. Every few weeks we will feature a new set of 10 for your enjoyment. Feel free to comment on our opinions by clicking on the link at the bottom. Enjoy!
Brett Favre

August 6, 2008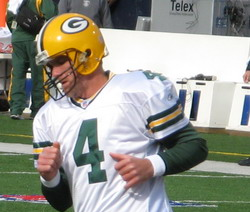 Brett Favre is one of the best quarterbacks to ever play football. Now how could this perfect role model loved by all possibly be garbarrassing? Well, he retired at the end of last season, and now he has decided to come back. We all know what this means. Instead of retiring after an amazing season which ended in Greenbay (which is where he played for 16 years), hes going to come back, play for a new team, have a shitty season, everyone in the city of the team he plays for will hate him for sucking, and then he will retire like a bitch at the end of the season...That is...if he even makes it to the end of the season. Garbarrassing.com wishes him the best of luck. Him and his grey hair is gonna need it.
For more Garbarrassing People, check out the Archives!